Department of Chemistry, University of Alberta December 2006
NMR News 2006-06
News and tips from the NMR support group for users of the Varian NMR systems in the Department
Editor: Albin.Otter@ualberta.ca http://nmr.chem.ualberta.ca
There are no fixed publishing dates for this newsletter; its appearance solely depends on whether there is a need to present information to the users of the spectrometers or not.
---
Other content of this NMR News is no longer meaningful and has been removed May 2010.
Contents
New overview page in on-line reservation system automatic update
The on-line reservation system has a new overview page that allows a user to look at all current spectrometer reservations and 2 hours into the future on one single page as shown below (1). The Reserve button under each individual spectrometer takes you directly to the reservation page for that system. This page is updated automatically every 5 minutes but it can also be refreshed at any time via the REFRESH DISPLAY button (this starts the 5 minute count-down until the next automatic refresh).
This new overview page can be accessed from the main reservation page and from every individual spectrometer reservation page (at the bottom next to the buttons that give access to the other systems).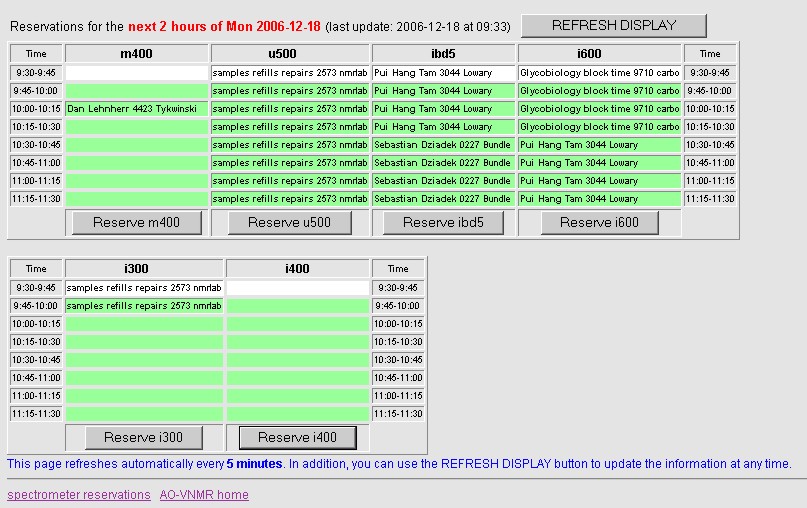 (1) This new feature was suggested by Vincent Ziffle from the Clive research group. If you like it, give Vincent a pat on the back!
Contributions to the programming effort by Mark Miskolzie are gratefully acknowledged.
New NMR equipment
Most NMR users have noticed some changes in the NMR equipment over the last few weeks and occasionally also experienced some associated delays in service. The NMR Support group thanks everyone for their patience. Here is an update together with some illustrations.
(a) The 400 MHz magnet of the s400 service spectrometer in WB-13 has been replaced by a shielded magnet and the spectrometer is back in full service. A couple of pictures of the event are shown below.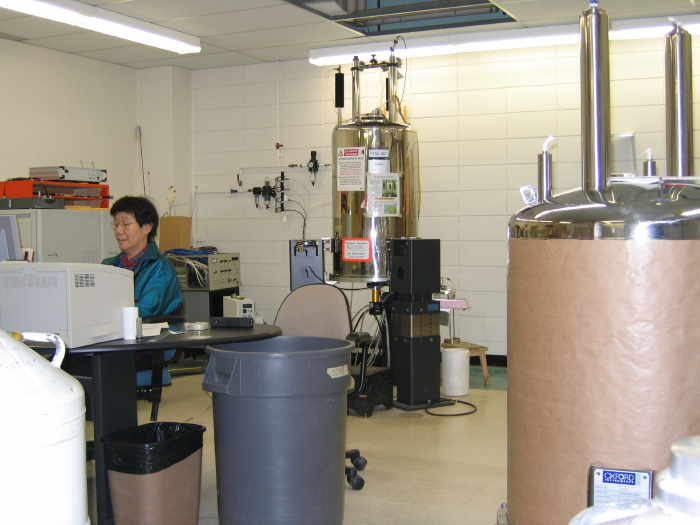 The last spectrum after 27 years of service is recorded with the old Bruker 9.4 T (400 MHz) magnet
(2006-11-01, Lai Kong at the controls).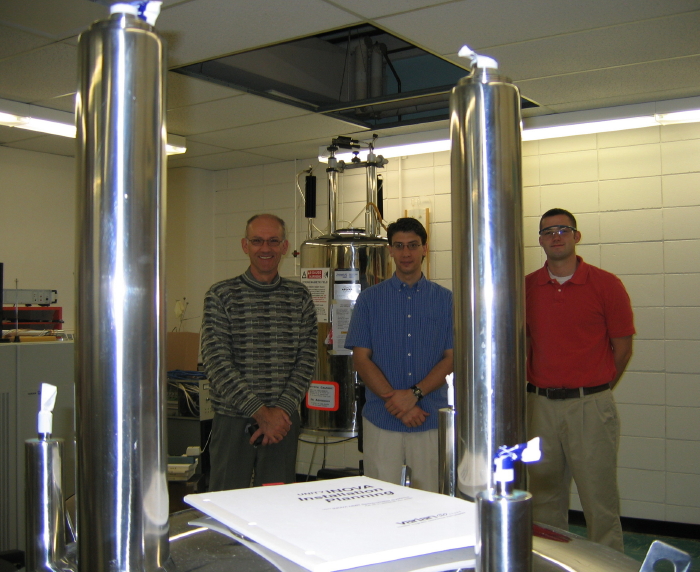 The new magnet in front, the old one in the back and various ages in between.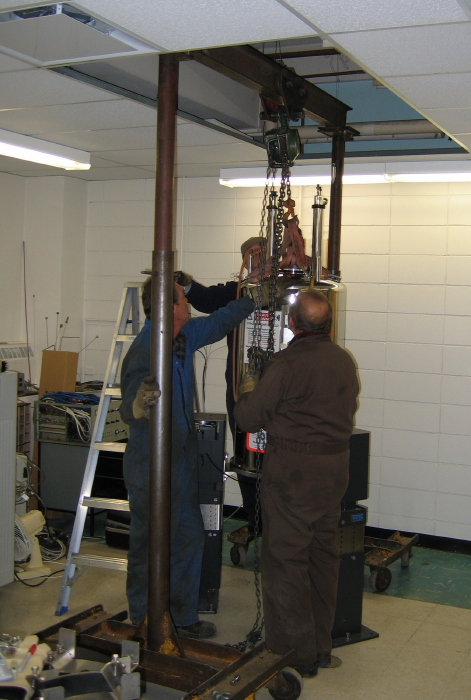 Magnets are heavy and require special equipment to move them around (2006-11-02).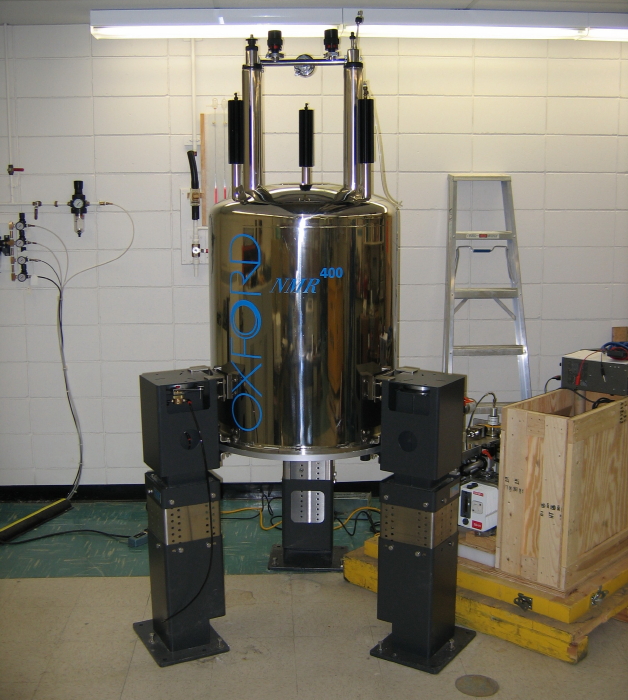 New, shiny and safely on the anti-vibration legs - a moment of relief!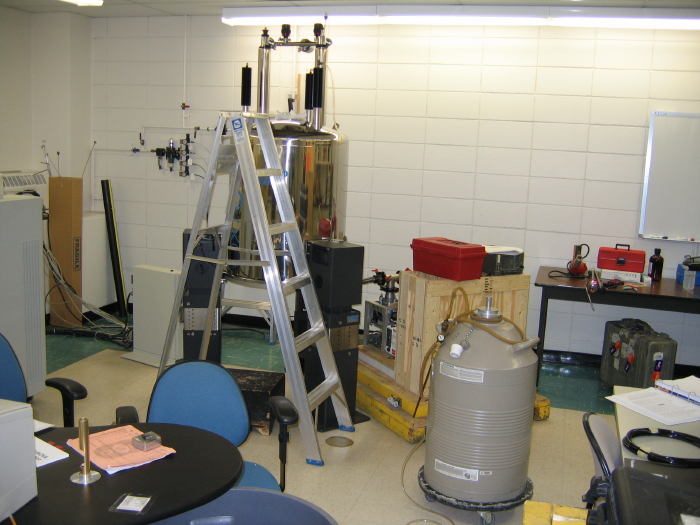 Magnet installation site: a busy place with lots of equipment.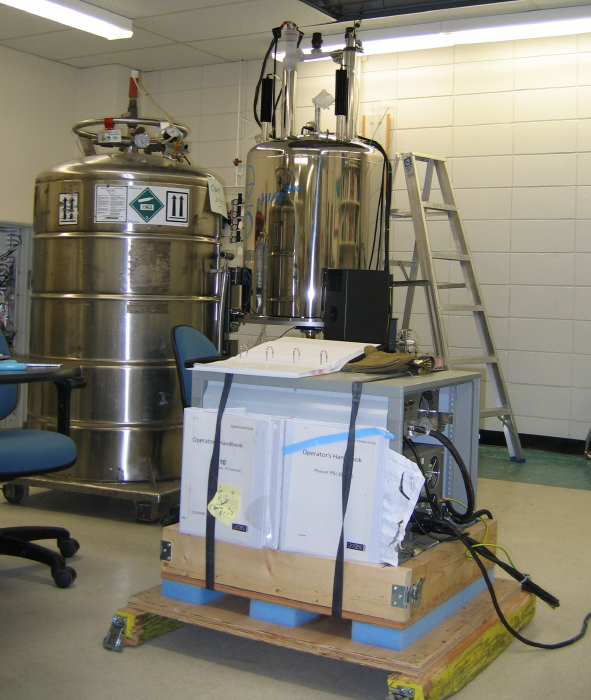 The power supply finally arrived after many days of waiting (2006-11-14).
Without this charging unit the "magnet" is nothing more than an expensive cryogen storage tank with no field whatsoever.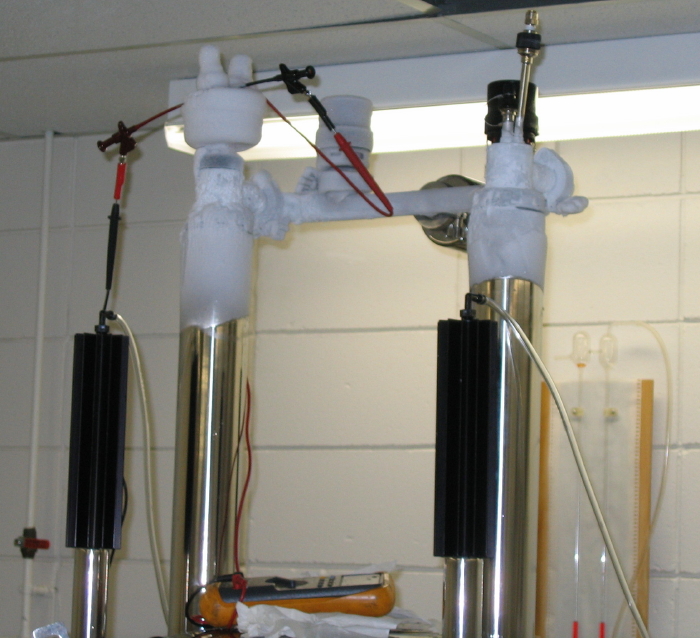 One way to make ice - an expensive method!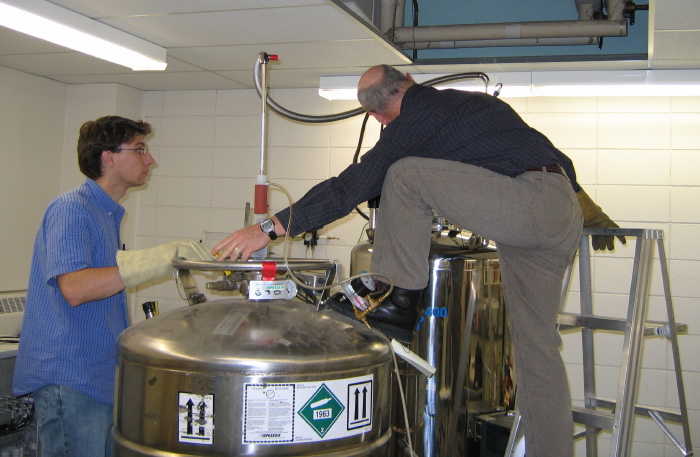 Even some climbing is involved.



In approximately 24 hours from 0 to 68.03 amps resulting in a 9.4 T (399.951 MHz H1) magnet (2006-11-14/15).

The new magnet is performing very well since mid-November. The lineshape of 0.3, 1.8 and 2.7 Hz (measured at 50%, 0.55% and 0.11% peak height) is nothing less than spectacular. Even though it is a shielded magnet it had very little field drift right from the start.
(b) The u500 console was replaced at the end of November. It is producing excellent data but due to the new hardware and software, some time is still needed to learn enough about it and to get it ready for general access.
---