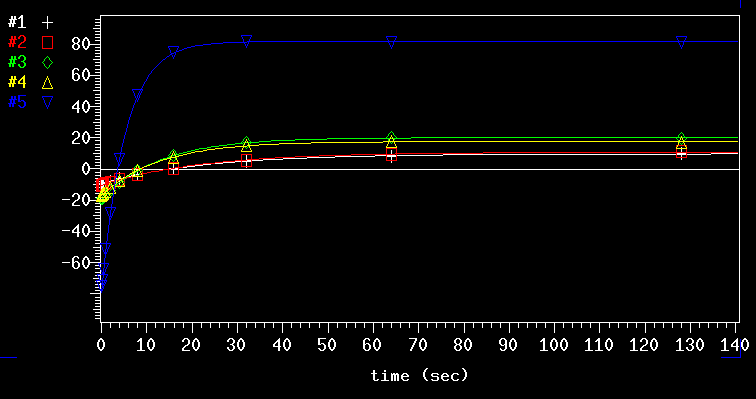 exponential analysis of the data shown in the inversion recovery experiment
The VNMRJ software can analyze the recovery of the peaks in a precise manner as shown above. It is evident that the process is far from linear: it is an exponential process. The blue line (# 5) is from the methyl group, number 1 and 2 are from the peaks at 6.8 ppm and 3 and 4 are from the 6.3 ppm signal.
The numerical result from the exponential analysis (T1 values in seconds):
| | |
| --- | --- |
| 6.8 ppm peaks | 22.2 |
| 6.3 ppm peaks | 12.8 |
| methyl group | 5.3 |
Looking, for example, at the blue # 5 curve, it can be seen clearly that it takes far more than one T1 period (5.3 sec in this case) of relaxation to get the full signal intensity back after each transient. Based on this exponential relaxation behavior it can be calculated how much of the signal will be recorded after the first pulse (which is the only one that gives 100.0% signal!). For various ratios of (relaxation / T1) the numbers are as follows:
attainable relative signal strength
and integral in %

loss of signal strength and integral in %

first pulse

100

0

subsequent pulses
total relaxation time relative to T1,
i.e. (d1 + at) / T1

5

> 99

< 1

4

98

2

3

95

5

2

86

14

1

63

37

0.5

39

61

0.25

22

78
This Table shows clearly that in the spectrum with the 5 sec relaxation delay the peaks at 6.8 ppm had only about 0.23 T1 periods of relaxation (5 sec for d1+at divided by the 22.2 sec for T1). The reason that they did not integrate even worse than the observed -40%, is the fact that the methyl group itself, taken as an integration reference, had only 1.0 T1 relaxation period and for this reason was not at full intensity/integral either. If the methyl group had a T1 of only 1 sec, and consequently produced >99% of its maximum attainable intensity/integral, then the integration error on the 6.8 ppm signal would have been -78%.
In the 100 sec relaxation spectrum all signals had more or just about 5 T1s to recover and hence the integrations worked out very well.
It is important to note that not only the integral is too low with insufficient relaxation, the NMR peaks themselves suffer from the same problem. However, the latter problem is typically far less obvious to the human eye than integral numbers like the ones shown in the first spectrum because we are used to see very different signal intensities based on splitting of the signals by coupling constants.