New feature in the on-line reservation system
With the increasing number of spectrometers which can be reserved over the Internet, it became a little cumbersome to always have to go back to the previous page to see other spectrometers. Now as illustrated here, it is possible to see the reservations of any other spectrometer for the same chosen day. For example, if the reservation of i300 is displayed for the coming Tuesday then clicking on the u500 button will display u500's Tuesday reservations. This should allow to quickly check all spectrometers for a given day and make the reservation where time is available.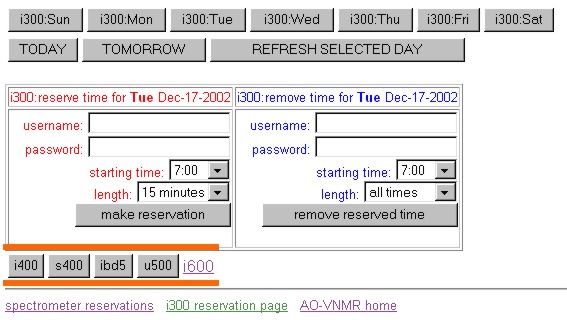 FAQ 2002-05.1: baseline: why is it not straight (why is it rolling)?
In a normal one-dimensional spectrum the baseline is nearly a straight line across the entire spectral range. The only difference in the appearance of the baseline from sample to sample is the amount of spectral noise which depends on the concentration of the sample and the number of transients (nt) that were acquired.
This all breaks down when the parameter gain is inappropriate for the given sample concentration. gain is not a very sensitive parameter - it is quite "forgiving". However, if too high, the baseline becomes a rolling baseline with ups and downs and, worse, artifacts appear as well (see example below). The only remedy in such cases is to reduce gain and re-record the spectrum (diluting the sample would be the more time-consuming alternative!). This is illustrated below with 5 spectra with gain ranging from 48 to 0. The receiver gain follows a logarithmic scale, much like lock power, and hence a change of +/- 6 units doubles/halves the gain.
Two questions arise in this context:
1) Why is gain not set automatically? It is possible to have the spectrometer decide on the correct gain, but this is a time-consuming process that takes longer than most users would want to wait. In essence the spectrometer would, in such a case, record a spectrum then evaluate the gain, reduce it and measure again. As gain is not often a problem, it is not worth having to wait every single time a spectrum is recorded. Manual adjustment, only when needed, is much more straightforward (just type gain=24, for example or gain='n' if you want the automatic gain adjustment).
2) Why not set gain to a very small value so that it fits all cases? When the gain is lowered more and more, the signal intensity and the signal-to-noise ratio are reduced (see below; how much depends on the spectrometer). Consequently, there is an optimum gain for a given sample concentration, but, again, it is not worth worrying too much about finding the optimum, as long as gain is not too high.