Start VNMRJ with a single click on the icon indicated below (DO NOT DOUBLE CLICK!):
Research accounts require a valid online user reservation name to use VNMRJ:
Invalid input will close VNMRJ, a valid online reservation username provides the following information and makes the program available to use:
Tuning information, white lettering shown at the top of the message above, is spectrometer dependent, e.g. no tuning on m400, ProTune on i400, ibd5, u500, i600 and v700, manual tuning on i300.
Disk usage and disk quota information on the central data server is shown in green lettering top right hand corner of the message above. Surpassing the disk quota will prevent saving of data.
LockPower, lockGain and z0 information are spectrometer dependent! z0 slowly changes with time (magnet drift). The z0 information can be used as a guide when automated locking fails.
After starting VNMRJ, and identifying yourself to the system, you should arrive in the last experiment number used before exiting VNMRJ. VNMRJ has 9 experiments by default (additional experiments can be created by the user). The dark blue box indicates the currently joined experiment.
Use any of the grey buttons to join one of the 9 default experiments.

Figure 4.10 : Join experiment buttons and currently joined experiment
The VNMRJ interface is shown below.
There are two fundamentally different ways to operate VNMRJ:
changing parameters, entering commands and macros on the VNMRJ command line with the keyboard
using buttons on panels with the mouse thereby choosing predefined para­meter sets and executing predefined macros
All Linux mice are 3-button button mice, the scroll wheel that acts as a middle button. The Linux mouse:
Messages coming from VNMRJ and the console (system messages) are limited to one to three lines. The acquisition status, outlined in Fig. 4.11, does not indicate which experiment is being acquired. Click on the buttons adjacent to these information boxes to open information and acquisition status windows. Place these windows on the second monitor and enjoy feedback from the spectrometer.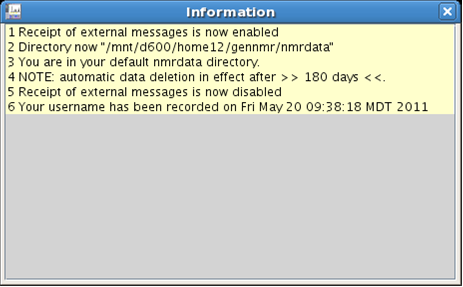 Figure 4.13 : The Information window

Figure 4.14 : The Acquisition status window